Out of 2k Lucky Boxes (General) i got the following items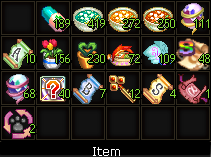 I can't say that i didn't get anything useful though......
I suggest that atleast take out the gray pill that has a good and more effective counter part that is obtained at the NPCies also take out those pet revival scrolls from A and below also omit that blinkwing.......
Also you see that pink LONER scroll out on the corner? Yes!! it sure is what you are thinking of, its "A PIECE OF REBIRTH SCROLL"
Here's atleast a reasonable list of suggested items that could be added for some added thrill to the opening of those boxes
Atleast add a small chance of gaining (if the the chances of gaining them via boxes are adjustable... you know just like when opening giftboxes or old bule boxes at ragnarok for example??) a .01% chance of gaining scratch card for DMC and RC, a .01% of gaining Lotteries Kheldor Cloak, or better Ultimate Kheldor Cloak, a .01% if this cards will be or has a possibility of being implemented the 10% cards or S cards, and also a small chance of event coin
Or Just add more buff items and ommit those items that you yourself know that is not really being utilized by the players and if that's the case? increase the chances of RB Scrolls.
Note: atleast make lucky boxes a newbies bestfriend?



Posts

: 61


Reputation

: 3


Join date

: 2011-12-10



Un-opened 4,000 pcs. of lucky boxes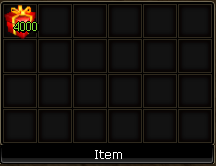 Opened 4,000 pcs. of lucky boxes
See that again?? that 3pcs. pink scroll over there? Yes!! you're right again it's a "Piece of Rebirth Scroll"
Yay!! Lucky me!! I'm at the last 2 rebirths of my character i got an excess piece of RB scroll.......
though opening those lucky boxes might need some upgrade you know??



Posts

: 61


Reputation

: 3


Join date

: 2011-12-10



Similar topics
---
Permissions in this forum:
You
cannot
reply to topics in this forum